Wu was a Chinese-American experimental physicist who made significant contributions to nuclear physics. She worked on the Manhattan Project, where she helped develop the process for separating uranium into uranium-235 and uranium-238 isotopes by gaseous diffusion.
Wu was born in a small town near Shanghai. Wu's father believed in education for girls, despite it being uncommon at that time so she attended the school her father started. At university, Wu studied physics where one professor had worked with Marie Curie. It was whilst she was a research assistant that her supervisor encouraged her to continue her education in the US. In 1936, Wu arrived in San Francisco, she enrolled at the University of California, Berkeley where she completed her PhD in 1940.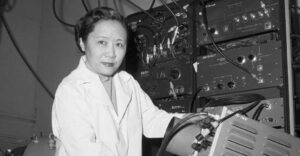 In 1944 she joined the Manhattan Project at the Substitute Alloy Materials Lab at Columbia University, focusing on radiation detectors. When the B Reactor at Hanford mysteriously shut down soon after it began operating, Wu helped identify poisoning by xenon-135 as the culprit.
She is best known for conducting the Wu experiment, which disproved the law of parity. The law of parity states that all objects and their mirror images behave the same way, but with the left hand and right hand reversed. This discovery resulted in her colleagues Tsung-Dao Lee and Chen-Ning Yang winning the 1957 Nobel Prize in Physics, while Wu herself was awarded the inaugural Wolf Prize in Physics in 1978.
In 1958, her research also helped answer important biological questions about blood and sickle cell anaemia. Read more about Wu's scientific contributions here >>
Her expertise in experimental physics evoked comparisons to Marie Curie. Her nicknames include the "First Lady of Physics", the "Chinese Madame Curie" and the "Queen of Nuclear Research".