Growing Up & Education
She was first encouraged to pursue a STEM career by her physics teacher in high school. She went on to study for a BSc in Mechanical Engineering at Rutgers University, and then went on to study for a Masters in Biomedical Engineering at Johns Hopkins University, and the completed her PhD in Bioengineering from the University of Pennsylvania.
Early Career
After Treena completed her PhD, she worked for several years as a product development engineer at a stem cell technology company, Osiris Therapeutics, Inc. In 2021, Dr Arinzeh returned to her academic roots at the faculty of  New Jersey Institute of Technology as one of the founding faculty members of the Department of Biomedical Engineering and served as interim chairperson and graduate director. To this day, she is still a Professor of Biomedical Engineering.
"We are used to seeing girls and women in all jobs and we know we can do it…"
– nj.com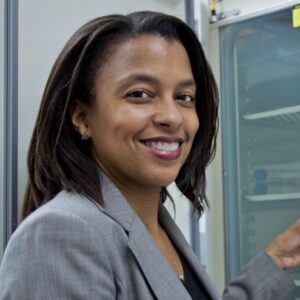 Since joining the New Jersey Institute of Technology, Treena has published over 60 journal articles, conference proceedings, and book chapters. Her most notable or cited work to date has been in the use of allogeneic mesenchymal stem cells with bioactive ceramics to induce bone formation in a large bone defect. This demonstrated that adult stem cells taken from one person could be implanted in another without being rejected. It is widely considered one of the most significant findings in stem cell research in the past few years. This study served as the basis for FDA approval to pursue clinical trials.
Awards & Recognition
Dr Arinzeh has been recognized with numerous awards. In 2004, Treena was awarded the Presidential Early Career Award for Scientists and Engineers, the highest national honour that a young researcher can receive. In 2010, she won a Grio Award and was listed on Grio's top 100 list of "History Makers in the Making", honouring those who are shaping America's future. Some more recent awards include…
2018: QED Award recipient 
2018: George Bugliarello Prize winner
She has also made a significant impact in the recruitment and mentoring of underrepresented minorities and women in biomedical engineering and other STEM fields.
Last updated June 2021.