Engineers are key to the evolution and improvement of the world. Engineers are not only looking to fix problems but also to improve current solutions… a constant strive for innovation. 
As a young girl, Gillian enjoyed helping her parents with DIY projects and problem-solving activities, such as jigsaws and puzzles. Gillian's love for aviation sprung from her passion for STEM, particularly maths and physics. Gillian landed her first job in mechanical systems; at this job role, she was changing engines, wheels and tires.
During this role, Gillian began to see how the world was changing from mechanical based engineering to computer-based engineering. This was a fascinating development. This automated smaller tasks and allowed engineers to be more creative, efficient and productive. Today, Gillian works supporting the hangars and line engineers. She ensures they have the correct tools and equipment needed to complete their jobs.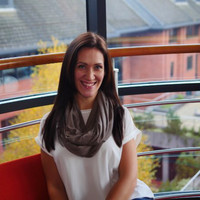 On her favourite thing about her job:
"Every day presents a different problem, and I'm put in a position where I can use my creativity, education and problem-solving skills to attack those challenges."
Gillian was involved in the launch of the brand-new Virgin Atlantic 787-9 aeroplane. This aeroplane is a completely different build to the legacy aeroplanes. It's lighter, more fuel-efficient and faster. It's the sense of satisfaction and achievement by providing the "gateway to the world" that makes working in aviation worth the hard work.
Gillian recognises that her career is male-dominated. Her vision is to see a world where the workforce recognises the benefits of diversity to enable aviation to reach its full potential. 
If you feel inspired, read more about her and the inspiring women at Virgin Atlantic.
---
This article has been written by Stemettes, Anagha and Florrie.