My name is Gillian Doyle and I'm CEO and co-founder of Cerebreon Technologies. I started the business with my husband to prevent people's money troubles from spiralling out of control. We use software, machine learning and AI to do this. If you told me when I was in school what I would be doing now, I would never have believed you. Here is a whistle-stop tour of my journey so far and the things I would tell my younger self if I could. 
When I was in school, I really, really wanted to know what I wanted to do as a career and in life. I was so envious of the people that knew they wanted to be a nurse or a flight attendant or whatever. Even now having worked in lots of different places, my job continues to change and I think that suits me. I don't think I was ever supposed to know what I was going to do when I was younger, because it has given me the freedom to follow the different opportunities that came up. 
I did okay in school, I'm not great at exams but am a good solid worker. I really liked science in school because it told me how the world worked and I'm a curious person. I did physics for my leaving cert (Irish equivalent to A-levels) but there were only 7 of us in my class out of 120 students. Physics wasn't popular! I wasn't into gaming or computer programming at all, in fact, I was an Irish dancer and had only ever played Mario Kart a couple of times.
I went to university to study science and I chose science because it was a general and broad subject and it meant that when I didn't know what I wanted to do, it wouldn't restrict my options. I left with a degree in Physics and decided to stay on and do a PhD in Nanophysics because I still didn't know what I wanted to do but I loved university. I was the first one in my entire family to do a PhD and it was a very different choice from what most of my friends had made.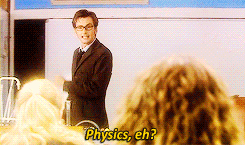 If I was to go back to myself as a teenager and give career advice, I would tell myself a couple of things: 
You will never have all the answers. That's ok. No one else does either! 
You don't need to have a roadmap for your life, you will find your own way through it but don't be afraid to make different choices to everyone else.  Keep it general when you're not sure. 
You have to believe in your own ability to learn. Back yourself always. 
The world owes you nothing, keep grafting and work harder than everyone else. Good enough is not good enough.  
Always treat people the same no matter what their job or responsibility is. Be understanding, listen and be empathetic. 
I would still pick physics as my career choice because it gave me so much opportunity and could bring me anywhere. Even though I'm older now, if I wasn't happy, I could change again. This is so important for people to understand in school, the subjects you pick now/degree doesn't determine your future. There are so many ways to achieve what you want and you will change your mind! Sometimes you need a bit of bravery to go after it but us girls are tough and we all need to constantly help each other on our way.
---
This piece was written by Gillian Doyle, CEO and co-founder of Cerebreon Technologies.