Mary learned to weld aged 11 and by 13, she had overhauled her first auto engine. She turned to aeroplane engines at 18 and taught aviation mechanics for the U.S. Army Air Corps.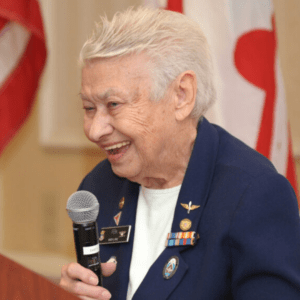 During WWII, Mary became an expert on several fighter planes and is credited with becoming the first woman engineer in research and development for the Air Technical Service Command. She flew more than 6,000 hours as a B-29 flight engineer, engineering observer and pilot in fighter, attack, bomber, cargo and training aircraft.
She participated in engineering "mock-up" evaluations for new aircraft proposed for production at the various aircraft manufacturing plants to determine flight and maintenance training requirements and authored pilot training and maintenance manuals for many of the military aircraft. She further wrote aviation-related reports in engineering and the physical sciences for distribution throughout the Armed Forces.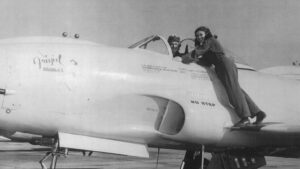 Mary was a professional restorer of antique and classic aircraft and worked at the National Air and Space Museum's Paul E. Garber Restoration Facility.
In 1994 Feik was inducted into the Women in Aviation Pioneer Hall of Fame. On February 24, 1996, she received the Federal Aviation Administration's Charles Taylor Master Mechanic Award in recognition of her many outstanding contributions to aviation safety. The award requires the recipient to have actively worked as an aircraft mechanic for at least 50 years. Feik was the first woman to ever receive the award, named for the Wright brothers' mechanic and engineer. Mary Feik's proudest professional honour was bestowed in 2003. "My ultimate honour 'is' the Civil Air Patrol cadet achievement created in my name."
Mary died on June 10, 2016, at her home in Annapolis, Maryland. Read more about Mary Feik here >>
Last updated February 2021.