Merritt does what most people might call the impossible. She has a career in physics which most would not believe could be possible by the age of 31. She has also somehow made enough space in her life to pursue a prosperous and impressive career in Ballet – including highlights with the Zurich Ballet, Boston Ballet, English National Ballet, and Norwegian National Ballet.
In school Merritt always loved both the arts and the sciences, her teachers encouraged her to pick a path, but Merritt simply couldn't decide between both. With an incredible work ethic, Merrit balanced both artistic and scientific interests through high school, always leaving her torn in the decision of which path she should follow, knowing both brought her happiness, yet it was always assumed you could never be successful in more than one area. Merritt ended up graduating 'cum laude' in Physics from Harvard University (which basically means she's really, really smart) and then went on to do a PhD in Atomic and Laser Physics from the University of Oxford. For most, this would be their life's work for many years but for Merritt, this was just the beginning. Alongside an academic career in physics, Merritt continued to pursue her love for ballet – reaching a point where during her PhD she would spend 4 hours training in leotards every day for her upcoming ballet commitments, and then 8 hours in a lab coat with a microscope.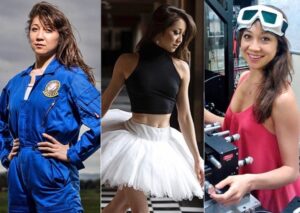 If you are an avid story reader, you may remember reading about Merritt in the bestseller 'Good Night Stories for Rebel Girls', and those of you with a TV would likely recognise Merritt as one of the 12 selected candidates on BBC 2's "Astronauts: Do you have what it takes?" If that wasn't cool enough, she was also recently on the Forbes 30 under 30 list, has been invited as a featured speaker at the Forbes Women's Summit in NY, and as a panellist for the U.S. Embassy 'Women in STEM' Panel in London. She's even given a talk at my school!
Merritt truly believes that arts and sciences are not mutually exclusive and illustrates this every day through her active pursuit of not one, but two passions. She is a true role model for everyone, everywhere.
If you feel inspired, watch her TedTalk about dance, read this interview and check out her website. 
---
This piece has been written by Stemette Society member, Jo.