Growing Up
From a young age, Naoko was fascinated with space. Her hometown of Sapporo had a beautiful night sky so she could watch the stars at night, and during the day she was often at the planetarium learning about the stars with her older brother. At age 15, she watched the space shuttle launch and this was the first time she thought about being an astronaut when she grew up.
It was no surprise that Naoko went on to earn a Bachelor of Science with a major in Aerospace Engineering from the University of Tokyo in 1993. This was followed by a Master of Science degree with a major in Aerospace Engineering in 1996.
The Road To Space
After graduating, Naoko continued to pursue a career in Aerospace Engineering. She joined the National Space Development Agency of Japan, now known as JAXA, in 1996. She was part of the development team for the system integration of the Japanese Experiment Module, also known as Kibo, meaning 'hope' in Japanese. Kibo is Japan's first human space facility and JAXA's first contribution to the International Space Station (ISS). Naoko also worked on Kibo's failure analysis and creating initial operation procedures. During this role, Naoko knew she wanted to one day work on the ISS, especially Kibo.
In 1998, she applied for the Japanese Astronaut Corps, and after a year of rigorous mental and physical tests, she became an astronaut candidate. After completing her basic training programme, Naoko had to train for seven months as a Flight Engineer of the Russian spacecraft Soyuz. In June 2004, Naoko joined the Astronaut Candidate Training school in Houston, where she was assigned to the Astronaut Office Robotics Branch. She was selected as a NASA mission specialist in 2006.
In November 2008, JAXA announced that Naoko would become the second Japanese woman to fly in space on STS-131, which launched on the 5th April, 2010.
"Well when I wanted to become an astronaut I didn't think about the fact that there were not so many women astronauts. I was focused on being an astronaut, not being a woman astronaut."
On the 5th of April 2010, Naoko entered space on the shuttle Discovery as part of mission STS-131. The mission was a landmark for women in space, this was the first time two Japanese astronauts, Naoko and Soichi Noguchi, have been in space together; the first time four women being in space at the same time and Naoko was also the last Japanese astronaut to ever fly the space shuttle as the space shuttle retired the following year in 2011.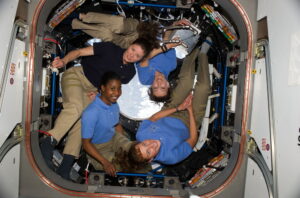 During the mission, Naoko operated the Shuttle and Space Station Remote Manipulator System. These are the big cranes that lift the cargo, and even astronauts, out into space. She also organised cargo transfer between the space shuttle and the ISS. She returned to Earth 15 days later.
Learn more about Naoko's mission in this preflight interview from NASA >>
Back On Earth
After returning to Earth, Naoko continued her studies and research at the University of Tokyo. She has also served as a member of the Japan Space Policy Committee since 2012, a Chairman of Japan Rocket Society's Sorajo Board for women in Aerospace since 2015, and a representative director and co-founder of the Space Port Japan Association since 2018.
Naoko's love for all things space is so inspiring to see. She has always continued to upskill herself to make her dreams come true.
Read this interview from Tokyo Weekender with Naoko Yamazaki >>
Last updated July 2021.