Did you know that while astronauts are on the International Space Station (ISS) they can grow up to 5-7 centimetres in height?
Astronauts spend about six months onboard the ISS and each day astronauts exercise for 2.5 hours each day to strengthen their muscles and bones. Without the presence of gravity, they can lose one to two per cent of their bone mass per month. This occurs mostly in the spine and lower limbs as these bones are not having to work as hard as they do back on Earth. This effect causes the astronauts to grow in height. This is where Vinita and her SkinSuit come in. Read more on the science behind the lengthening of bones in space here >>
The SkinSuit mimics the effects of gravity by increasing the pressure on the astronaut's body preventing the weakening and lengthening and of the spine. With a force close to that felt on Earth, the suit effectively squeezes an astronaut's body gradually in hundreds of stages from the shoulders to the feet to help prevent bone loss.
Vinita's Education
In year 7, Vinita realised her passion for engineering in physics and decided from this point she wanted to work for NASA's mission control. Vinita studied Mathematics and Physics with Astrophysics at King's College London. Following this, she studied at the International Space University's Space Studies Program in Barcelona. She went on to gain a master's degrees in Astronautics and Space Engineering from Cranfield University and in Space Management from the International Space University. Read an interview with Vinita about her journey into engineering >>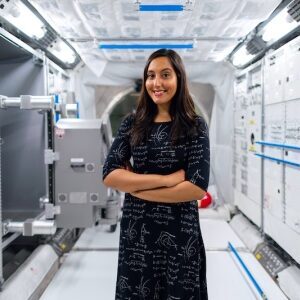 Vinita's Career
She has worked at the Mission Control at the German Aerospace Centre; this is where she designed the SkinSuit and was involved in the training of astronauts.
Vinita now works for the European Space Agency (ESA) as a Space Operations Engineer. Her job is to make sure the human body can survive in space, and she uses engineering to do that. As an operations engineer, she works on developing the operations for the ESA. This includes preparing a smaller version of mission control at ESA's technology centre in the Netherlands. Her typical day involves working with colleagues in Russia to develop training for astronauts to learn how to spacewalk to training astronauts to operating the new robotic arm, which will be launched into space soon. Read an interview with Vinita about her career >>
Awards & Legacy
As well as having one of the coolest jobs ever, she is a STEM advocate and opened Rocket Women in 2012. Rocket Women is an online platform to inspire girls to pursue a career in space and technology industries.
She featured in Elle magazine's "12 Genius Young Women Shaping The Future". She has given invited talks at Bluedot Festival, New Scientist Live, Norwich Science Festival and the Science Museum. The magazine Fast Company listed Vinita as one of the "most creative people" in 2016.
You can follow Vinita on Rocket Women, Twitter, Instagram