Roma Agrawal MBE is an Indian-British-American Structural Engineer. Roma lives in London and she has worked on several major engineering projects, including the Shard.
Growing up, Roma loved to play with Lego, she thinks this is where her love for engineering and making things came from. Roma completed her A-levels in London and completed her physics degree at the University of Oxford. She went on to gain a Masters in Structural Engineering from Imperial College London.
"I did a couple of summer placements during my degree, and one of them was with some mechanical engineers in the physics department at Oxford who were basically designing equipment for physicists (including particle detectors for CERN). That's when it really hit me: I'd always loved making stuff, I knew I wanted to use maths and physics in my job, and so engineering seemed like a fantastic opportunity."
– The Interview Portal
In 2005, Agrawal joined Parsons Brinckerhoff (later called WSP) on a graduate program, becoming a chartered engineer with the Institution of Structural Engineers in 2011.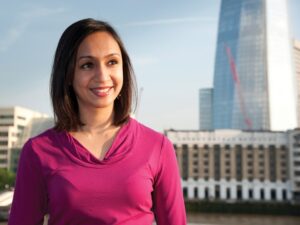 She spent six years working on the tallest building in Western Europe, the Shard, designing the foundations and the iconic spire. The 310-metre tall building required modular construction. Sections of the building were built and tested off-site, enabling quick and safe assembly at height in central London.
What was the most interesting challenge in building the Shard? 
For me personally, I think the biggest challenge was just how much I had to learn and the huge variety of things I did. I designed in steel, I designed in concrete, I worked with structures from the 1800s that surround the site, and I had to learn all of that in quite a short space of time.
– The Interview Portal
Alongside the Shard, Roma has worked on Crystal Palace Station and the Northumbria University Footbridge. She worked for WSP for ten years before joining Interserve as a Design Manager in November 2015. In May 2017, Agrawal joined AECOM as an Associate Director.
What would you say to someone considering a career in engineering?
Do it! It's a very exciting time to be an engineer – technology is changing, we need more housing, food, sustainable energy sources and so much more. If you want to have an impact on the world, be an engineer.
– Royal Academy of Engineering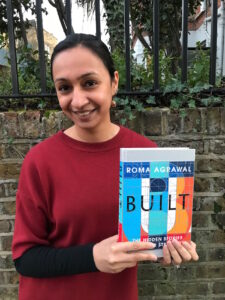 In 2018 Agrawal was appointed Member of the Order of the British Empire (MBE) and a Fellow of the Institution of Civil Engineers in 2018. She is also a diversity campaigner, championing women in engineering. In 2018, Roma also published her own book, titled Built: the Hidden Stories Behind our Structures, an introduction to structural engineering.
Check out Built: the Hidden Stories Behind our Structures here >>
this is an affiliate link: at no additional cost to you, we will make a commission if you make a purchase from this link.
Take a look at Roma's website >>
Follow Roma on Twitter. >>
Last updated June 2020.