Growing Up
Susanne first discovered her love for technology when her father brought home electronics for her to experiment with. Susanne and her father would take them apart to see how they worked – a favourite pastime for the both of them. But, due to an illness in the family, Susanne had to put this passion for tinkering on hold.
Her mother's illness and financial constraints forced Tedrick to press pause on her education. Because of this, she found herself in an administrative role. Despite this choice, she admits she didn't enjoy the work and longed for a greater sense of satisfaction.
"I didn't see many women, specifically women of colour in my community, my neighbourhood, or my family in the technology field. I do wonder if I had seen that earlier would I have believed that this was a career field for me," she mused. "So I try to be as present as I can be to show young girls of colour women who are potential career changers that this is a field for you, and you're desperately needed." – Susanne, Virtasant.
Education
Susanne graduated from Northwestern University with a degree in Communication Systems. This degree covered information technology and information systems but also incorporated communication skills. Whilst completing her degree, Susanne took part in as many opportunities as possible. These included volunteering and hackathons, which helped her find her niche.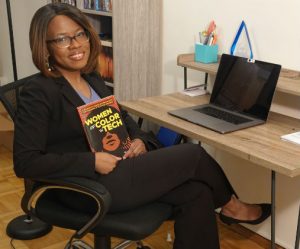 Career
Susanne spent 15 years in the financial services industry before going into tech.
"Up until about 6 years ago, I had worked for many years in the financial services industry in administrative and operations roles. While well-paid and well-respected, I realized that I did not enjoy my work and decided to pursue a career in the tech industry, as I had always loved computers and technology as a child. I went back to school at Northwestern University to get that fundamental information technology education while pursuing every professional development opportunity you can think of (e.g., internships, externships, hackathons, boot camps, volunteer work, etc.)." – Susanne, Medium.com
In 2018, Susanne gained a technical sales internship at IBM. She turned this role into a full-time job after 12 months. She provided technical education, product demonstrations, and workshops for IBM Cloud. This job allowed her to combine communication skills with technical problem-solving. Yet, she soon discovered cloud computing was her true passion.
These days, Susanne works as a cloud infrastructure specialist for Microsoft's cloud computing platform, Azure. She helps clients to understand the capabilities of the cloud and migrate their workloads over to the cloud. Susanne's main clients are major professional sports, college sports and gaming clients.
Awards & Legacy
In December 2018, she was awarded the Rising Star of the Year Award from the IT professional organization for my work in tech. She currently hosts and produces the Diversity in Tech webinar series.