Why is it important to 'decarbonise' the electricity we use every day?
Successfully managing climate change is extremely important to both your and future generations' existence. Currently, world leaders are grappling with the push to keep global warming below 1.5C. There are many contributors to the global warming effect, from the transport we use, how things are made, how we travel and even how we heat and power our homes. 
Currently, the electricity that powers everything in the UK, such as our homes, schools, and shops, comes from the UK's electricity system which is looked after by National Grid. National Grid's role is to ensure that there is enough electricity to meet demand 24/7. Historically, the UK's electricity was generated by burning coal, a very carbon-intensive fossil fuel. Most coal generation has stopped in the UK. So now the generation mix is made up of renewable energy, such as wind and solar. But still, a large portion comes from gas-fired power stations, which are carbon-intensive but not quite as bad as coal. 
The reason we still need gas to help create electricity is that we still don't have enough renewable generation to meet the demand. A lot of renewable generation isn't consistent. The sun isn't always shining and the wind isn't always blowing, so gas (burning it to make electricity) is required to fill in the gaps. What would help is a way of storing renewable generation to then use when demand is high… such as big batteries. 
What is battery storage's role in the future of energy?
As you know, batteries store energy and the energy within a battery is released and used when required, like the batteries in your TV remote, it lays dormant until you hit a button when changing channels. This technology is now being used in electricity systems all over the world. They store renewable energy and then discharging it onto the electricity grid when it is needed. The clever bit is how the battery is controlled. Limejump intelligently controls the battery via its platform which connects to the battery and turns it on and off remotely when there is high or low demand. The plan is for batteries to replace electricity that is created by burning gas, helping nations move to a 100% clean and renewable energy future.  
Currently, in the UK, there are not that many big utility-scale batteries. In fact, there are only enough to store 1.5GW. To put that into context, the UK's peak demand for energy requires on average between 30-45GW. So there is a lot of work to do to achieve our net-zero by 2050 ambitions. 
So, what does a utility-scale battery actually look like?
Chances are, you have not seen a utility-scale battery 'in the wild' as they tend to be located in the countryside. However, as we build more and more, you might just see one whilst on your travels throughout our beautiful countryside. 
Utility-scale batteries are mostly housed in large shipping containers, the ones you tend to see on huge container ships or sitting on the docks of large ports. They use these as they are weatherproof and can house hundreds of smaller battery cells. Take a look at Europe's largest battery site that Limejump controls, Minety. There are over 40 shipping containers adding up to 100MW of capacity power, enough to power 300,000 homes for one hour.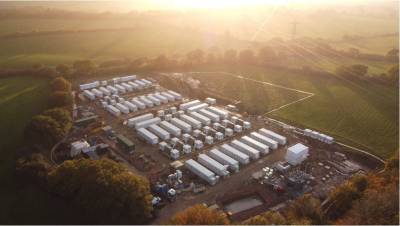 So what is inside the container?
Take a look at the photo to the left/right. The rectangular blocks all stacked from floor to ceiling are battery cells which fill each container. Each container amounts to an impressive 2.5MW, enough to power 7,500 homes for one hour.  You will find other key hardware items inside a battery container. For example, you will also find the 'brain' (known as the Local Controller) which receives commands from Limejump's cloud platform. All this technology creates a lot of heat, so you will also find a lot of air conditioning fans that keep the container at the optimum temperature.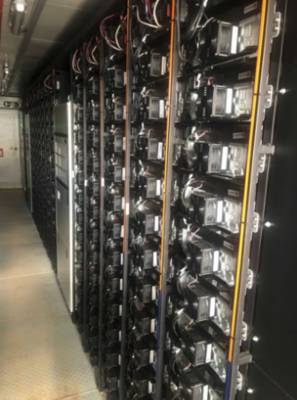 Lastly, how does Limejump control batteries?
Outside of the battery container, Limejump installed their very own hardware (see picture), a control panel. This collates all the information from the battery container and then sends it via the internet to Limejump's cloud platform. The platform then analyses the data from the battery. It also analyses data received from the grid and then takes the necessary action, such as turning on or off the battery. Actions taken by our platform should be discharging the battery as the grid requires some support as demand is high. Sometimes, we might need to charge the battery as the battery is low. The reason that all these decisions and actions are actioned by technology is that it is quicker than human control and batteries are required to react 20x per second… Much faster than a human can react and take necessary actions to turn on or turn off a battery.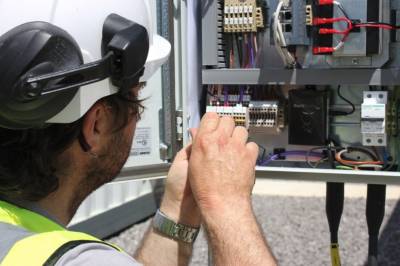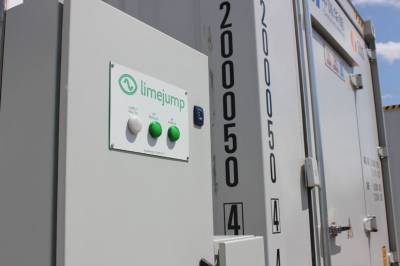 Take a look at the infographic below to see all the data moving from the battery to the platform and the actions coming back from Limejump to the asset. 

The future is green
Hopefully, our whistle-stop 'tour' has given you an insight into the world of  'big batteries'. They play an important role in the UK's pursuit of a cleaner, decarbonised energy system. Remember, a battery's main purpose is to store renewable energy. When the wind is blowing and the sun is shining, it can be used when demand from homes and businesses is high. So, as we build more renewable energy assets such as wind turbines and solar farms, the more batteries we will need. Next time you are out on a drive in the countryside, keep your eyes peeled for wind turbines and solar farms and shipping containers, as it could be a battery device optimised by Limejump!! 
You might also like to meet the CEO of Limejump, Cat Newman >>