On June 25th, Stemettes partnered with Quantum Black to host a panel event aimed at girls ages 13-15 years. The girls later designed a website and had the opportunity to ask questions to a range of panellists.
Our panel consisted of four women and a mystery man, all within the STEM industry:
Huong Nguyen – Software Engineer
Estelle Chung – UX Designer
Ivan Danov – Machine Learning Engineer
Mariana Neves da Silva – Data Engineer
Viktoriia Oliinyk – Data Scientist
After introducing themselves, the panellists answered questions based on their STEM careers. They were asked about what they do on a typical working day and what first introduced them to the STEM industry.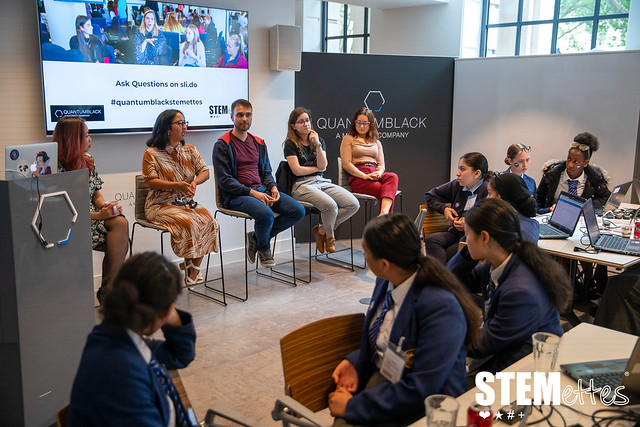 We then started the Hackathon part of the day, the girls were given the challenge to build websites using HTML with the theme of reducing single-use plastic.
Ready, set, hack!! Today we're building websites to reduce single-use plastic at @quantumblack #quantumblackstemettes #womeninSTEM #girlsinSTEM ??‍???? pic.twitter.com/nxSX0BFaMG

— Stemettes ® ?★ # + (@Stemettes) June 25, 2019
Presentation time ? We are super proud of all the girls presenting their #websites to a panel of @quantumblack judges ? they've only had 1.5 hours to #code these websites ?‍? Who will be the #winners?? ?#QuantumBlackStemettes#GirlsInSTEM pic.twitter.com/PBYEkOfQIT

— Stemettes ® ?★ # + (@Stemettes) June 25, 2019
We finished the day by handing out prizes, and our judges couldn't pick just one team to win!
The @quantumblack judges couldn't choose 1 #winner ? congrats to all the girls for their STEMazing #coding today ?‍? keep it up ? thanks to all the QuantumBlack hosts and volunteers and thank you to the schools for coming ?#QuantumBlackStemettes#GirlsInSTEM pic.twitter.com/Epu9xlMHmD

— Stemettes ® ?★ # + (@Stemettes) June 25, 2019
In terms of impact…
Attendees rated the day 9.3 out of 10
85.1% had an increased positive perception of STEM careers
84.4% had increased their STEM awareness
82.8% increased their knowledge of STEM careers
100% of attendees would like to come again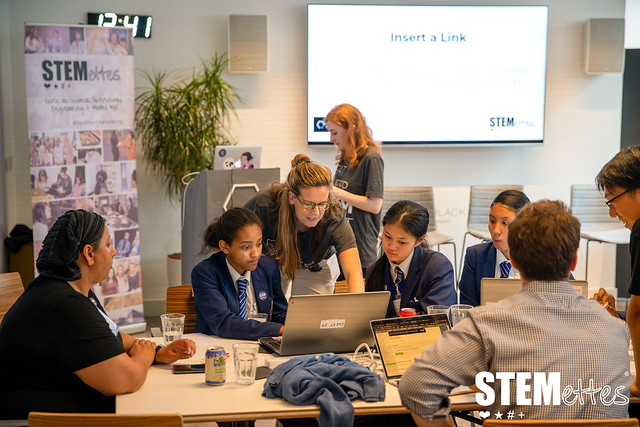 A massive thank you to Quantum Black for partnering with us for this event! To keep up-to-date on our upcoming events, head to Eventbrite!
Flickr has all the pictures from the day!