She did an Electronics Engineering degree and gained a PhD. She's a Chartered Engineer and now an Associate Director at WSP. She has designed telecommunications systems for major engineer projects all over the world.
Nike, as a child what inspired you to become an engineer?
I was inspired to become an engineer by my love and fascination with televisions. I was curious about how things worked. As a child, I recall trying to understand how images got to our TV screens from a TV aerial and how radios work. As my Dad is an engineer, it seemed an obvious choice to consider a career in engineering.
What do you love about your job as an engineer now?
My role provides me with a diversity of opportunities and design experiences. I have always wanted to do this so it also gives me a sense of purpose. The variety is great. I have worked on aerials for vehicles to radio networks within large tunnels across the UK. What I love most is the global and yet personal impact that my designs make on the lives of people. I have worked on some amazing projects in the UK, Africa, Middle East and Australia. These include Crossrail, the Blackwall tunnel, Hindhead Tunnel and Edinburgh Gateway station.
Tell us about a time that you felt your work really made a difference?
My day job is developing future technologies that meet people's transport needs. But my work also contributes to saving lives. I am responsible for designing networks for the fire, ambulance, and police services. I feel pride every time I walk into a station, a tunnel or a road which I have provided a design for. Recently I stepped into the new Victoria Underground station. I designed the telecommunications for it and I can not describe in words the sense of pride I felt.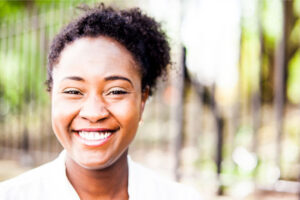 I also chair of the Association for Black Minority Ethnic Engineers in the UK (AFBE-UK). AFBE-UK champions higher achievements in engineering among ethnic minority groups across the UK. Our mission is to increase the number of BME Engineers who succeed. And support young people to explore a career in engineering. Our work is making a difference with many of the young secondary school students. They have come through our Transition programme and are now working as engineers in industry. 70% of people that participated in our programme secured jobs within 12 months of graduating. For most BME people is not the case.
What would be your piece of advice for young women considering doing a STEM career?
Only 9% of engineers are women although women make up over 50% of the industry. A career in STEM is there for the taking if a girl wants it and is prepared to grab it. There will be challenges along the way but it is important to keep focused and ignore the naysayers. You will be making a massive difference not just to the percentages but the engineering landscape. This can only be a good thing.
You can read more about Nike's journey is engineering here >>
Last updated October 2020