We have to start thinking about sustainability – start appreciating the consequences of all the social, political and environmental problems around the world.
But why the focus on technology? Technology is not just about electrical, it's everything from the science behind renewable energy, to the maths needed in AI. When considering the 'sustainable' side of it all, technology can be broken down into two categories:
day-to-day consumer technology
the big, global, change-oriented technology
For any new technology, we need to consider its usefulness, lifetime, how it interacts with the physical environment and its social effect. Trying not to tip the balance seems like a daunting task, which is where the 'circular economy model' is used. This is a method for separating business growth from using up natural resources. "You have to start thinking about where these materials come from and how they can be used endlessly" explains Dr Anand Narasimhan, General Manager for Cloud Supply Chain Sustainability at Microsoft.
Speaking at the WeAreTechWomen Virtual Conference, Dr Narasimhan showed that there are three main stages in the model: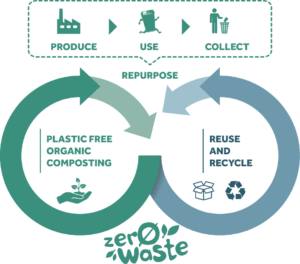 1. Circular Design.
The initial design stage is the most important to get right, as the majority of carbon emissions are released here. To manage the environmental footprint, an engineer has to consider the entire construction process, from mining to reusing the materials. Advances in material sciences would mean that substances like plastics (the hardest to recycle) aren't needed – until then, it's up to designers to minimise their use.
2. Circular Supply Chain.
The next phase is the most challenging, as it involves organising lots of individual firms. From extraction processes to working conditions, they have a lot to consider. Even transport and distribution are a huge contributing factor to a firm's carbon emissions. It is a hard balance to maintain, and changes have to come from government legislation and society itself to create a lasting impact.
3. The Circular Cloud.
This stage deals with what happens at the end of a device's life. We could reuse them, harvest specific parts, remanufacture them or recycle them. The challenge here is the consumer-manufacturer trade-off: at the end of a device's life, users are responsible for what happens next. To help customers recycle or repair products, manufacturers should be clearer and more transparent.
The circular economy is a way of embedding sustainability into industry, but it's still only a small step towards minimising our effect on the environment. Sustainable technology is not a very mature space, but globally there is a push towards a greener, safer, and more ethical future. Although we face many challenges, through greater awareness and little steps in the right direction, I believe we can create a tangible change.
---
This article was written by Dyuti Chakraborty, Stemette Society member.