Meet Dr AJung Moon, a roboticist on a mission to make ethics a core part of AI and robotics technologies.
She is the founder and CEO of Generation R, the first consulting firm to deliver ethics assessments of predictive algorithms for businesses.
Robotics and AI technologies are set to radically reconfigure and benefit society. They also raise serious ethical questions. We believe that ethics is a strategic enabler and a catalyst for technological innovation.
She is also a founder and Director of the Open Roboethics Institute (ORI), an international think tank that has been spearheading open discussions on roboethics topics such as…
What should a robot do?

What decisions are we comfortable delegating to robots?
AJung received her Masters of Applied Science from UBC in 2012. She specialised in design and implementation of robot nonverbal gestures.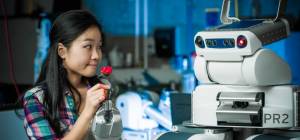 She holds a PhD in Mechanical Engineering from the University of British Columbia. She also has a specialization in the design of human-inspired interactive robot behaviours.
Find out more about her research
She advises numerous national and international organizations on ethical and societal implications of AI and robotics. She frequently serves as an expert panellist, speaker, and guest lecturer on robo-ethics.
One of the projects that I am working on right now is super exciting. I'm working with Hallie Siegel – former editor of a large robotics news network called Robohub – and seven other amazing roboticists from across Canada on a project called the Canadian Robotics Network. We are trying to pave the way for having a national robotics strategy in Canada, which I think is essential if Canada is to invest in our future in the technology. Countries such as the UK, South Korea, and even Singapore has a roadmap. Yet, Canada is the only G7 country to not have a national strategy in place. Read the rest of the interview on meditationsontech.com.