Nina Tandon is an American Biomedical Engineer. Nina's mother and siblings inspired her medical career. Her mother encouraged Science to Nina from a very young age. Whilst her brother has impaired vision and her sisters have issues seeing colours.
Nina attended The Cooper Union for the Advancement of Science and Art, in New York City. In 2001, she graduated with a Bachelor of Electrical Engineering. During her degree, she built an electronic musical instrument. It is different from others as it is played through human electromagnetic waves. Currently, Nina is a senior fellow at Columbia's Lab for stem cells and Tissue Engineering.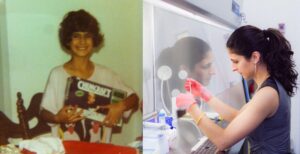 As a Biomedical Engineer, Nina worked at Columbia University to force the growth of cells using electrical currents. At present, she has grown cells on rat hearts. Her ultimate aim is to create a process where we can grow entire human organs.
She then co-founded EpiBone and is now the CEO. EpiBone is developing technology to create bone tissue from a patient's stem cells for use in bone grafts. If you feel inspired, read this interview about EpiBone and watch Nina's TedTalk. 
In 2011, she was a TED Fellow and in 2012 a senior TED Fellow. L'Oréal Paris has also named her as one of its Women of Worth in the Science and Innovation category. Follow her on Twitter and check out her website.
Last updated July 2020.